Every Thursday. Eat. Drink. Listen. Enjoy.

Live Music at The Kenmore
May 3rd - East of Monroe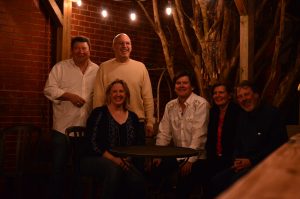 East of Monroe brings their original blend of bluegrass and Americana to the beautiful Kenmore Inn on Thursday, May 3rd!
Call the Kenmore Inn at (540) 371-7622 to make a reservation!
May 10th - Revelator Hill
Awe-inspiring master guitarist and vocalist Bobby Thompson is no stranger to the blues and rock world. He cut his teeth learning to play in the old blues clubs of D.C. from the likes of Bobby Parker. After honing his craft as a much sought after support man, Thompson decided to step out as a solo artist, releasing three albums since 2011. With his smooth, gripping vocal stylings and his perfect musical taste on anything with a string, Thompson is what's referred to as a "musician's musician". Considered a "must see" act of the Northeast region, Bobby was nominated for the D.C area Musician of the Year award in 2015.
May 17th - Ashleigh Chevalier
Ashleigh Chevalier is a Fredericksburg favorite!
Her big voice just fills the garden room and pub of the Kenmore Inn. You won't want to miss this soulful song bird!
Join us for dinner and some out-of-this-world live music. Give us a call to reserve your seats at (540) 371-7622.
May 24th - Kingbolts
The incredibly talented band, Kingbolts, will be performing at the Kenmore Inn on May 24th. Do not miss out on hearing their original rock music along with covers that will have you singing too!
Click here to check out the Kingbolts' Facebook page.
May 31st - Fog and Bone
This amazing Blue Grass Duo joins us once again, all the way from Austin Texas!! Don't miss this great listening room performance.
Free Admission, call for reservations..540.371.7622
June 1st- Karen Jonas Album Release! (Friday night)
Join The Kenmore Inn in welcoming back local legend Karen Jonas and her guitarist/collaborator Tim Bray!
Karen's intensely personal songwriting first grabbed national attention with the release of her critically acclaimed 2014 debut album Oklahoma Lotter. Years of non-stop touring have produced a smoldering live act that's left audiences breathless across the country with her latest album, Country Songs.
Call and reserve a table today! You don't want to miss it! Great food! Great music!
http://www.karenjonasmusic.com/
You're going to want to call as soon as possible to secure a table! Karen brings a crowd!
June 7th - Dangerous Kitchen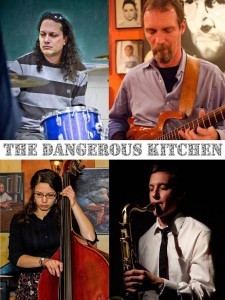 It's going to be a great show as we welcome The Dangerous Kitchen to The Kenmore Inn stage!
The Dangerous Kitchen channels the spirit and inventiveness of original BeBop jazz and its pioneers — geniuses like Dizzie Gillespie, Thelonious Monk, Charlie Parker, Miles Davis, John Coltrane, and Sonny Rollins. We also throw in a hefty dose of modern modal and latin styles… and yes, you can dance to it!
https://www.facebook.com/thedangerouskitchen/?fref=photo
June 14th - Jon Wiley and Bruce Middle
Join us for the guitar styings of Bruce and Jon! Great song writing, storytelling and covers of classics.
Restaurant opens at 5:30 so come in for dinner and a show! Call to make your reservation at 540.371.7622
June 21st - Whiskey Django Foxtrot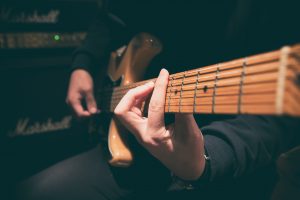 Join us in welcoming the Whiskey, Django Foxtrot band!
Dance to the acoustic sounds of their gypsy, jazz and tango style!
Stay Up to Date with The Kenmore Inn!
Join our mailing list to to see what's happening at The Kenmore. You'll get a head start for reserving your seat at our wine dinners and special events. Take advantage of our monthly deals, from free appetizers at our restaurant to rooms in our inn.