Every Thursday. Eat. Drink. Listen. Enjoy.

Live Music at The Kenmore
September 13th - Bobby Thompson
The Kenmore Inn is proud to welcome Bobby Thompson as he releases his latest EP, The Acoustic Sessions.
Bobby Thompson is a guitarist and vocalist who plays with the bands Revelator Hill and the Jordan Patterson Band. Leaving the electric sounds of Revelator Hill, his solo work reflects a gentler side of his work with the guitar.
"Thompson has drawn a line between his past and his future through these songs of hope and redemption. It is hard not to listen to this record and recognize an artist beginning to hit his creative stride." — JIM MARKEL, SWAMPLAND (2011 'BY THE HAND' REVIEW)
Learn more and listen at his website.
September 20th - Davis Bradley Duo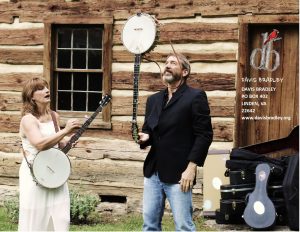 Kathy Davis and Bradley Bishop have teamed up to present a one of a kind musical experience for everyone! They draw from their individual Bluegrass, Oldtime and Swing influences to create something magical, while remaining true to the roots of the music they love. Fans can expect to hear fresh renditions of the classics as well as several original compositions, played on more than a dozen traditional instruments, and presented in a historic context. This dynamic song mix has helped to extend their combined reach, holding the door wide open to welcome those in search of something new and unique!
Check out more on their website:
https://www.davisbradleyduo.com/
September 27th - EP Jackson and The Last Well
EP Jackson and The Last Well, featuring EP Jackson – Guitars, Vocals, Harmonicas, Mike Durham – Guitars, Vocals, Dustin Brandt – Bass, Vocals and Christ Martin – Drums, Percussion, are a Fredericksburg Bluegrass band that are sure to delight.
Come stomp and holler at the Kenmore Inn.
Stay Up to Date with The Kenmore Inn!
Join our mailing list to to see what's happening at The Kenmore. You'll get a head start for reserving your seat at our wine dinners and special events. Take advantage of our monthly deals, from free appetizers at our restaurant to rooms in our inn.