Every Thursday. Eat. Drink. Listen. Enjoy.

Live Music at The Kenmore
July 12th - Jack Dunlap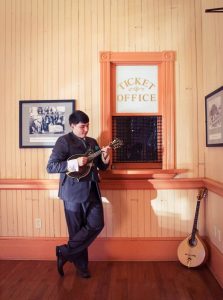 Jack Dunlap is the mandolinist for the trio Bud's Collective, but has also worked along side past and present members of Mountain Heart, Audie Blaylock and Redline, Dailey and Vincent, Ricky Skaggs and Kentucky Thunder, Frank Solivan and Dirty Kitchen, Blue Highway, Chris Jones and the Night Drivers and Michael Cleveland and Flamekeeper, to name a few.
Though growing up playing bluegrass music, Jack stretches his instrument into other genres such as jazz, swing, blues, rock, classical, country, Eastern Indian folk music, Celtic, polka and many others. He worked as the apprentice to VA based mandolin legend Danny Knicely through the VA Folklife Program. Danny Knicely & Jack Dunlap recorded the album "Chop, Shred & Split – A Mandolin Player's Apprenticeship" together in 2015. The album went on to win Best Bluegrass Album of the Year at the Washington Area Music Awards (WAMMIES).
July 19th - Allen & Eddie Dickerson Birthday Show
Visiting his family, Eddie returns to celebrate a birthday with his Dad! Come celebrate with them at the Kenmore Inn!
Don't forget to make a reservation! The room fills up quick! Call or email:
5403717622
reservations@kenmoreinn.com
July 27th - The McTell Brothers
The McTell Brothers are an Americana/Folk /Blues duo from Virginia.
Playing since the age of 9, these fraternal twins have played with and opened for some of the country's top songwriters and guitarists from Nashville, Austin, New York and beyond, artists such as: Elizabeth Cook, Eric Brace & Peter Cooper, The Black Lillies, The Spring Standards, Eric Taylor, Emily Wells, Nicole Atkins, Frank Solivan and Dirty Kitchen, Joy Kills Sorrow, among others. They've performed at some of the top festivals and venues in the mid-Atlantic.
Come check them out as they perform a mix of Americana, Folk, Rock and Blues, including some of their own original material. Formerly performing as the J & B Blues Project, their current name is a homage to legendary bluesman Blind Willie McTell, as well as the Bob Dylan song of the same name.
Learn more and listen at their website.
Stay Up to Date with The Kenmore Inn!
Join our mailing list to to see what's happening at The Kenmore. You'll get a head start for reserving your seat at our wine dinners and special events. Take advantage of our monthly deals, from free appetizers at our restaurant to rooms in our inn.